The Battery is now installed and working. It is a 10kWh LG with a SolarEdge AC/AC Inverter to control the house systems to maximise Self Generation and reduce Grid use and Export as much as possible.
I have installed 18 Hanwha Q-Cells panels (equivalaent to very nearly 5kW) of Monocrystaline Photovoltaic Solar Panels behind the house, completed 2014-07-24. There is a big concrete slab near the Met station to take the panels. The Steca Grid Tied inverter feeds electricity into house mains, any excess being fed back into the Grid, earning us a small credit against our electricity bill.
Photovoltaic Yield for the current Quarter, day by day.

In our first year, we have used in the region of 25% less units of electricity compared to the previous 2 year average, and we have produced 19% MORE than was predicted. This is due to our sunny location, and the quality of the Hanwha Q-Cells. The Steca Inverter output can be viewed in realtime.
2014-07-24 Electrical System installed. job Done!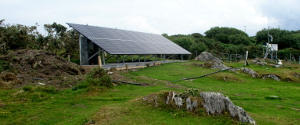 2014-07-23 Today 18 Monocrystalate PV Panels installed to give 4.95kW Maximum output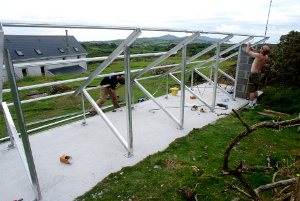 2014-07-15 Cable for power and network is run from the shelter to the house ready to connect!!
2014-07-13 I have modified my Energy Monitoring system to include the PV output all ready for connection.
2014-07-07 Concrete base goes in for the PV Array with a small shelter for the Inverter.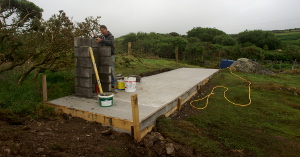 Here is the chosen site: