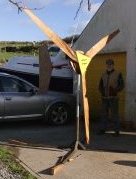 I made a Wind Turbine using Hugh Piggot's Recipe Book to heat water. With our Solar Panels and the Wind Turbine we now very rarely need to use the Mains Immersion Heater for our Hot Water.
 A Success!
 I have had various problems along the way, in particular broken blades, a bent, then broken mast, and hoisting problems. There is more on this in the Progress Page. The worst weather so far was the storm of 17th April 2013 (winds gusting up to 67 knots (Force 12)
 Turbine Yield

Turbine Yeld for the current quarter
| | |
| --- | --- |
|  Turbine Output in last 24 Hrs | Twists and Turns in wire running down mast. |
| | |
Twists and Turns
And I have been able to watch the twist on the wires coming down the mast by plotting the sequential changes in wind direction from my Weather Station Data since the turbine was last erected.
The Algorithm is simple:
Select all wind directions from date and time the turbine was erected and sort in date time order
Get the first one
Add 360 to each reading (solves the problem when going from 359 to 0)
Get next one and subtract from previous one
 Progress
You will find photographs and a progress report from the start of this project in October 2011 to when it was "finished" in April 2012. Then further details of evenst since then.
I got the electronic and electrical side finally working properly on 16th September 2012